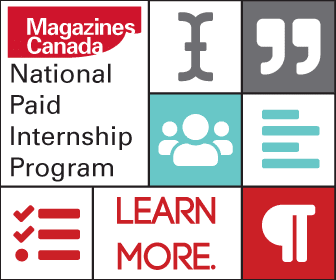 We are delighted to have hired a talented person interested in the magazine business for a paid internship. Thanks to a program organized and administered by our industry's association, Magazines Canada, the intern will be one of 10 internships supported in 2020 through federal funding. The intern will work from August 2020 to January 2021 on Canadian Woodworking & Home Improvement magazine.
The National Paid Internship Program, made possible through the Collective Initiatives component of the Canadian Periodical Fund, is designed to help Magazines Canada members across the country find new, diverse, skilled talent while providing interns with the paid work experience, job training, mentorship and networking opportunities they need to build careers in the magazine sector.
We received more than 120 applications and considered each one before arranging short video calls with about a dozen candidates. Some of our best applications came from the Work in Culture non-profit arts service organization that supports the professional lives of Ontario's artists, creatives and cultural workers through life-long career development and entrepreneurial and business skills training.

In our case, the intern will be focused on the area now generally called audience development. Over the decades, this part of magazines has been called "circulation" and "consumer marketing" as the role evolved from a focus on the numbers of subscriptions and single copies sold to the need to adapt more targeted sales approaches to find the appropriate readers based on interests and demographics. In 2020, of course, we now deliver content in print and digital formats, so the metrics of success are not only volumes or revenues, but also engagement – hence the "audience development" title.
At the end of the day, magazines are generally most successful when they can bring in revenues both from the people interested in the subject matter – the readers – and the marketers who have products and services to meet the needs of those readers – the advertisers.

The Canadian Woodworking intern will perform marketing, content creation and promotional tasks in order to develop targeted audiences for digital and print offers. Simply stated, we aim to turn website visitors into email subscribers and then paying customers of print and/or digital content.